JOINT WEBSITE OF GERMAN SCHOOLS IN NORTH AMERICA
What is the German International Abitur?
The German International Abitur (DIA) is an internationally-acclaimed college preparatory curriculum and diploma that provides an academically exceptional and culturally rich multilingual education to students of all nationalities and backgrounds.
By inspiring inquisitive, open-minded, independent thinkers with a robust, internationally-oriented and well-rounded curriculum of languages, sciences, mathematics and arts, the DIA opens doors to the finest colleges and universities and creates a world of opportunities for its graduates.
Students in DIA programs become truly bicultural and develop into socially- and globally-conscious citizens. They have opportunities to Learn, Earn and Connect in a way that students of other academic programs do not.
Of the eight schools in the German Schools Abroad North American Region, five are authorized to offer the German International Abitur. Four of these DIA schools are in the United States (Boston, New York-White Plains, Silicon Valley, and Washington D.C.), and one is in Canada (Montreal).
What is the German International Abitur?
The German International Abitur (DIA) is an internationally acclaimed middle/high school curriculum and diploma that provides an academically exceptional and culturally rich multilingual education to students of all nationalities and backgrounds.
Learning
Earning
Connecting
The DIA Learning ADVANTAGE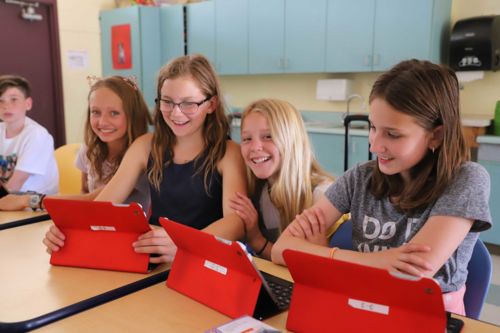 Families of every nationality and background recognize the strengths of the DIA curriculum. In 2019, almost 75% of the 84,000 students studying at German schools abroad were citizens of their school's host country or a nation other than Germany. When students begin the highly accredited DIA curriculum, they benefit from the network of over 140 German Schools Abroad, who share best practices and offer intercultural exchanges. The carefully developed and highly acclaimed bilingual, interdisciplinary curriculum provides students with an excellent foundation in languages, the sciences (Biology, Chemistry, Physics), mathematics and the arts.
Lifelong Benefits of Bilingualism
In a world that becomes more connected and complex by the day, fluently speaking more than one language has obvious benefits. A growing body of research shows that, besides just being able to communicate with more people, bilingual children think more flexibly and perform better academically than do monolingual children. Students who begin a bilingual education in preschool and continue through high school obtain the greatest benefits. In our schools, bilingualism -- in fact, multilingualism -- is at the heart of everything we do.
Higher Education Opportunities
Our graduates benefit from a great deal of choice when applying to colleges and universities. Students who earn the DIA are automatically accepted into German universities, though highly desirable or competitive programs may require a specific score. Graduates are regularly admitted to selective colleges and universities in the US, Canada, Great Britain and also in mainland Europe, where higher education is often free or costs much less than in North America. For many families, that could represent a tuition savings of $100,000 or more. University admissions directors around the world acknowledge that DIA graduates stand out in a sea of applicants. Once admitted, DIA graduates often find that they can receive college credit for DIA coursework.
Highly Trained Faculty
DIA faculty are highly trained experts in their fields. The majority of them have earned advanced degrees (Master of Art or Master of Science, or the European equivalent).
The DIA Earning Advantage
Economic research has revealed that American employees who speak and write German fluently as an additional language have a distinct professional advantage over their fellow employees whose speak French or Spanish in addition to English: not only are they more in- demand, they also earn more. By developing inquisitive, independent thinkers who learn, ponder and debate a wide array of subjects in two or more languages, an DIA education can become the catalyst for lifelong academic and professional success.
German Speakers in North America are Unique
According to Babbel Magazine, today in Europe, more than 100 million people speak German; outnumbering English, French or Spanish speakers. However, the most recent census data shows North America numbers are substantially lower, with just over 1.4 million German speakers in Canada and the US.
On a continent that recognizes the value of Germany´s contributions to industry, the arts and sciences, this makes bilingual German speakers unique and sought after.
Germany is an Economic Powerhouse and a "Green" Economy
Germany is the world´s 4th largest economy and the economic engine of Europe. It is also a major trade partner for North American countries. 1
In 2017 Foreign Direct Investment (FDI) inflows in Germany reach approximately USD 34.7 billion. 2
Germany is becoming a center of computing, biotechnology and alternative energy.

Outside of Silicon Valley, Boston and London, Munich boasts the largest concentration of hardware and software companies, and Dresden is home to 765 semiconductor firms.
In a recent report on the microelectronics industry, the German Economic Development Agency (GTAI) stated that Germany is "Europe's leading semiconductor production location", and that the sector is the second-largest in manufacturing in terms of the number of people employed.
Half of all photovoltaic cells and a third of all windmills are produced in Germany.

Germany is edging ever closer to its national target of 65% renewable energy by 2030: even as new government regulations slow down the speed of the long-term structural change in energy systems, market forces and Mother Nature have ensured that throughout 2018, renewable energy will cover at least 38% of Germany's total electricity consumption. 3
Center for Solar Energy and Hydrogen Research Baden-Württemberg (ZSW) and the Federal Association of the Energy and Water Industry (BDEW)
German Businesses Reach Far and Wide
Nine of the world´s 50 largest companies are German. Many German companies are household names: think Adidas, Volkswagen, BMW, Bayer, Siemens, and Lufthansa. Others are less well known yet still influential and form the backbone of science and industry: names like Carl Zeiss, Leica, Sennheiser, BASF, Heidelberger Cement, Dürr, Meyerwerft, and many more. German companies employ over 800,000 people in the United States. German subsidiaries in the US are growing and investing heavily despite some skepticism regarding the state of free trade and the availability of a skilled workforce, according to the 2019 German American Business Outlook (GABO) survey conducted by German American Chambers of Commerce (GACCs) and the Representative of German Industry & Trade (RGIT). New York City, NY.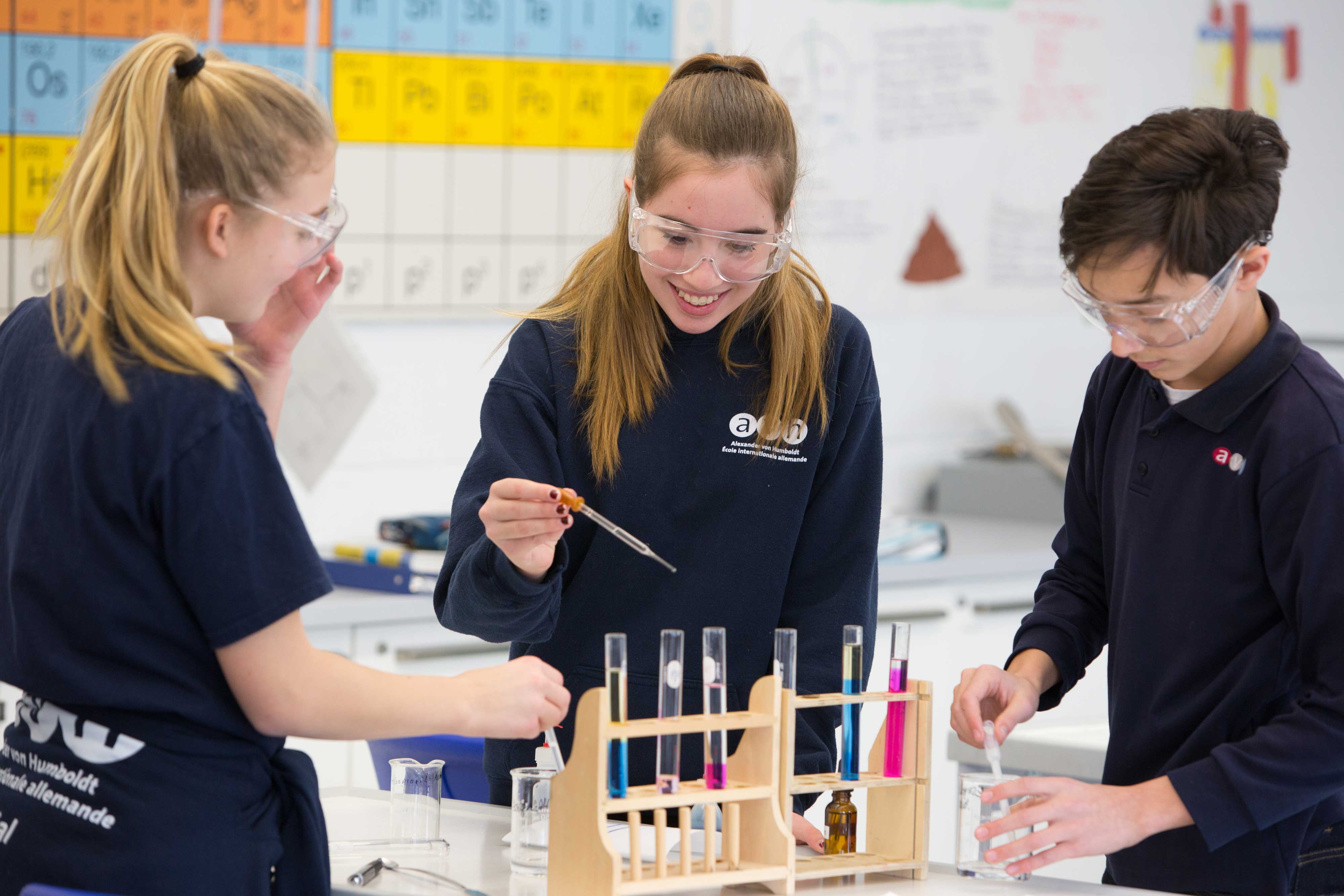 The DIA Connecting Advantage
Learning to navigate a culture and relate to its people involves more than knowing how to order a meal in a restaurant or ask for directions to a museum. Students who pursue the DIA curriculum and earn their degree are not just bilingual: they´re also authentically bicultural. They possess the awareness, knowledge and sensitivity of local norms and customs to move effortlessly in two cultures. This opens a world of opportunities to communicate and connect with people -- whether relatives, friends, professors, or colleagues -- that simply don´t exist to casual language speakers.
Better Understand a Rich and Storied Culture
Today, you can find high quality translations of virtually anything that interests you -- literature, movies, medical research. But even the most perfect translation created by an experienced translator can fail to capture the subtleties of popular culture and the nuances of language and social norms that only those well-versed in that language and culture will notice and appreciate. Imagine the deeper connections you can make when reading classics such as Goethe, Kafka or Nietzsche in their original German, or watch a film from Germany´s reawakened and flourishing film industry, without subtitles.
Strengthen Family Bonds and Connect with Your Heritage
Children who are able to communicate with their parents and grandparents in a shared language establish deeper bonds and enjoy a stronger connection to their family history and their own unique cultural heritage. That personal familiarity with one´s past and how it came to shape the present can also lead to happier children who are better prepared to confront the natural ups and downs of life. In fact, over the years multiple studies have shown that bilingual and bicultural children have lower levels of anxiety and enjoy higher self-esteem than monolingual or mono-cultural children, and the long-term benefits include increased brain plasticity and potential to delay onset of dementia.
Develop Deeper Friendships
If you talk to a man in a language he understands, that goes to his head. If you talk to him in his language, that goes to his heart. - Nelson Mandela.
While many native German speakers also speak English or French, the advantages of being able to communicate in one's mother tongue is undeniable; more likely than not communication is clearer and understanding more precise when you have multiple languages at your disposal.